Work is taking up most of my time, but I've been spending what little free time I have hanging with my sis, cooking, and obsessing over fandoms that I'm not in. Sister Sister is picky picky picky, but she's eaten more or less everything I've made (even the endive and gorgonzola salad that I topped tonight's steaks with... so proud!), so I'm rewarding her with peach crumble in a bit. Am I the best, or am I the best? Actually, don't even answer that; I think we all already know the answer.
Debating starting Mad Man at Sister Sister's request, but until I do, I'm gonna stick with Master Chef and Suits. And The Choice, but lol, let's not talk about that.
What's new with you guys? Anything? I'm going to visit the Amish this weekend, partially because my brother goes to college around there and I need to pawn two dozen cookies off on him (I can't stop cooking and baking! It's a disease!), but mostly because Sister Sister is fascinated by them and we want to go eat an Amish meal.
Talk to me, I'm bored. Or give me recipes to cook. Or books to read. Or let's talk fandoms and what fics you want to see and what you're writing.
Or let's talk about how if Mike doesn't get with Harvey, I'm gonna marry him myself.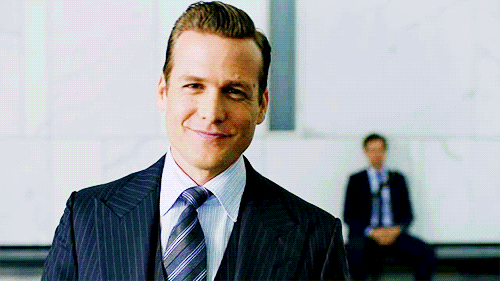 Goddamn, sir.